Africa University August 2021 freshman class matriculates virtually
1 October 2021
The August 2021 class was officially welcomed to the university in an online matriculation ceremony that was streamed live on Facebook for parents, guardians, partners, stakeholders and friends to witness and celebrate on the 1st of October 2021. 598 freshmen representing  13 nationalities- Angola, DRC, Ghana, Cote d'Ivoire, Kenya, Liberia, Malawi, Mozambique, Nigeria, Rwanda, Tanzania, Zambia and Zimbabwe were introduced to the institution's leadership and immersed in the culture of academic excellence and Ubuntu that Africa University has become renowned for.
The Matriculation ceremony hosted annually for each new intake is the formal induction of new students into the university community and a marking of the transition of the freshmen into adulthood, responsibility and accountability for their life decisions, their academic success and their commitment to the betterment of the families, communities and nations from which they hail.
In his welcome remarks, Acting Vice Chancellor Rev. Professor Peter Mageto impressed upon the freshmen the values of the university and the responsibility that lies with each of them to live up to its name of integrity and respect, imbuing within themselves the ethos of servant leadership, Pan- Africanism and tolerance of diversity.
He said, 
"This is a place where Africa meets and the world meets Africa. This is a home for all of Africa where we nurture the growth of Africa's people. It is the United Methodist cross and flame that guides our vision. We are gathered here today to celebrate you and to welcome you into our community. Acquaint yourselves with the fundamental values and the core mission upon which this university is built. They are a representation of the Africa we are each trying to build through our works and through our deeds. Immerse yourselves in our culture and our academic richness. Child Rights, Intellectual Property Rights, innovation, business enterprise development, Malaria research, these are a few of the disciplines upon which we have built a reputation of excellence and I encourage you to explore all that this great institution has to offer you."
Professor Mageto went on to highlight the importance and priority that the university has placed upon student progression and success, providing assurance that the freshmen of 2021 have indeed made the right decision to study with the university.
Echoing the message of the Acting Vice Chancellor, Student Representative Council President Ms. Shannel Ziki said in her address,
"That we achieve and realize our dreams is something  Africa University is committed to . Despite the constant disruptions brought on by the Pandemic, we are still here, welcoming for the second time on a virtual platform our new freshmen and just this past July, graduating , for the second time virtually, our class of 2021. We keep going regardless of what is happening around us."
Providing words of encouragement and inspiration, she went on to add, 
"2025 seems so far away right now but I urge you to make strides towards guaranteeing your success now. Remember that nothing is impossible. Nothing you put your mind to cannot be accomplished. Failure will most assuredly come but this should never be a reason not to try."
As is tradition, a representative of the freshman class of 2021 spoke on behalf of the cohort detailing his experiences at the university to date and the impact the community has had . Tampiwa Mahari, a  Computer Engineering student who was selected to be the cohort representative said,
"Africa University is truly Africa's University. It has taken only a week on campus for me to be convinced, that Africa University is truly where Africa unites. I have never before experienced so much diversity in culture and tradition  in an environment where our differences become somewhat of a badge of honor which is welcomed, given the room to flourish, and thereby complements the student experience so well. We are all helping to build the Africa we envision and as such, there is no room for discrimination as one hand washes the other, and both wash the face. It does not get any more Pan-African than this. We each represent a nation, a city, a family, and now an African legacy."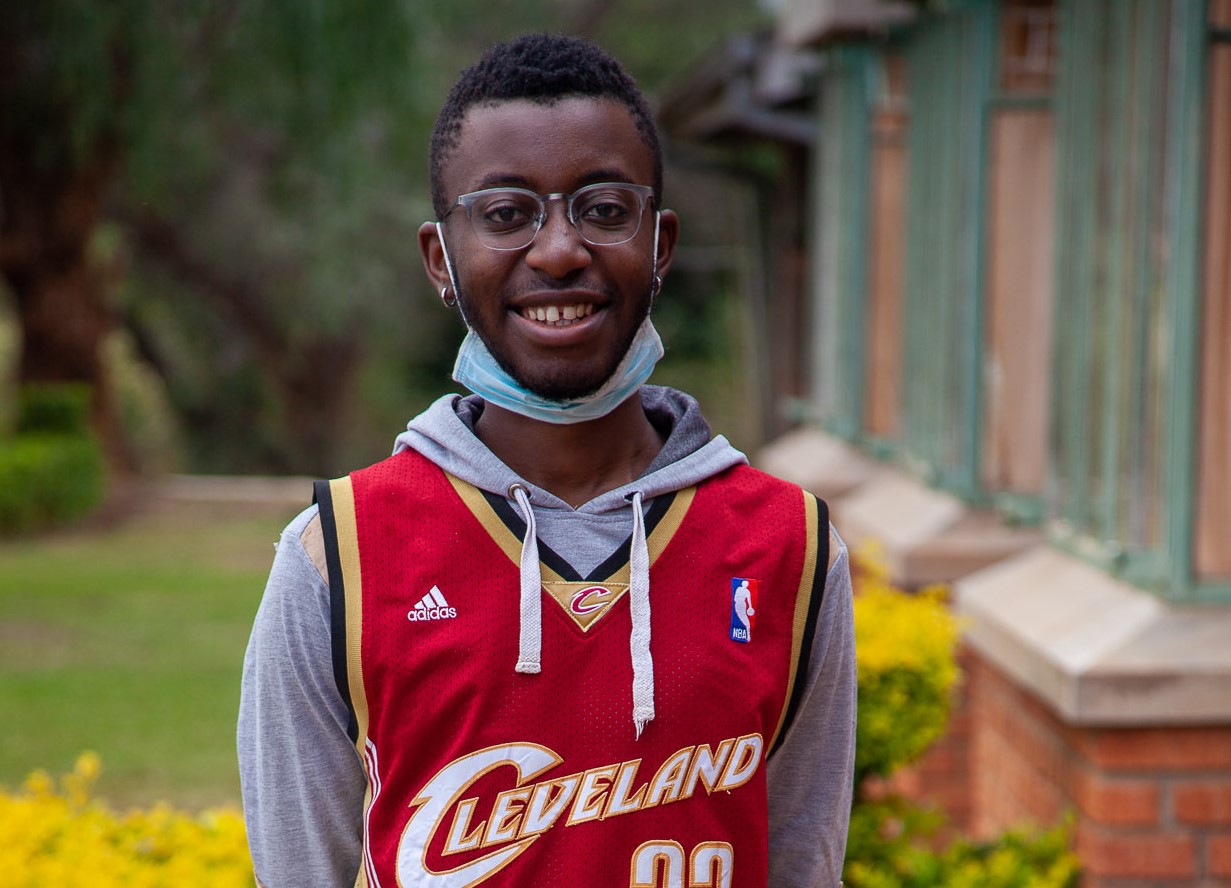 Tampiwa went on to share his personal story and inspire the freshman class in their academic journey.
"As a 20-year-old first year student coming out of a long educational hiatus, my journey to this point has not been an easy one. COVID- 19 put the brakes on the plans for so many of us, but it most certainly did not stop them. I consider  the 2021/22 Freshmen Class the anointed class. Jeremiah 29:11 reads ,

"For I know the plans I have for you, declares the Lord, plans for welfare and not for evil, to give you a future and a hope".

The majority of us have gone through an emotional rollercoaster since the onset of the Pandemic two years ago . What we hoped for fell through. What we worked for turned to dust. What we prayed for seemed impossible. I will not claim to know the struggle that each of you endured to bring you to this point. But one thing that is certain is that you overcame, and you conquered. Jomo Kenyatta , the African statesman once said,  "Our children may learn about the heroes of the past. Our task is to make ourselves architects of the future". This is a new chapter for all of us. Write it well, and imbue it with a growth of character and spirit. In all you  do, never forget your core purpose of being here."
The Matriculation Ceremony ended with virtual break away rooms hosted by the academic leadership and colleges allowing the students an opportunity to further interact with each other and their faculty.